CATALOGS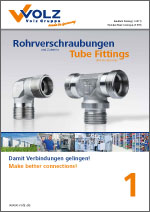 Volz: Tube fittings carbon steel
– Tube fittings made of stainless steel 316TI
– DIN 2353 / ISO 8434-1
Volz: Tube fittings made of carbon steel with zinc-nickel surface protection
Tube fittings made of carbon steel with zinc-nickel surface protection (coating) DIN 2353 / ISO 8434-1
Volz: JIC flared tube fittings made of 316TI stainless steel
JIC flared tube fittings made of 316TI stainless steel – SAE J 514 / ISO 8434-1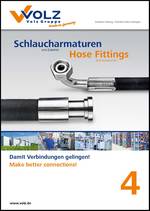 Volz: Hose tails & ferrules made of 316TI stainless steel
Hose tails & ferrules made of 316TI stainless steel
Volz: Adapter made of 316TI stainless steel
Adapter made of 316TI stainless steel
SOFTWARE
THE UNITEC TOOLBAR IS FREE, CUSTOMIZABLE AND PROVIDES SEARCH TOOLS THAT CAN PERFORM SEARCHES FROM YOUR BROWSER ANYWHERE ON THE WEB. FOR MORE INFO.
PRESS
FROM THE TRANSPORT SYSTEM TO THE LOGISTIC ORGANIZATION
THESIS
DEVELOPMENT OF A MODEL OF SIMULATION OF ONE SUPPLY CHAIN WITH SOFTWARE POWERSIM
DEVELOPMENT OF A MODEL FOR THE OPTIMIZATION OF THE COSTS OF OBSOLESCENCE FOR THE SUPPORT OF COMPLEX SYSTEMS. APPLICATION TO A SYSTEM RADAR NEAR A PRIMARY COMPANY OF THE FIELD.
UNITEC WEB TOOLS STORY AND EVOLUTION
THE ELECTRONIC COMMERCE BUSINESS-TO-BUSINESS MODELS, ACTORS AND DATA.

THE IMPACT OF INFORMATION AND COMMUNICATION TECHNOLOGY IN THE MANAGEMENT OF THE SUPPLY CHAIN, FROM THE OUTSOURCING TO THE VIRTUAL WAREHOUSE
THE SATISFACTION OF THE CUSTOMER: CASE UNITEC
OUTSOURCING IN THE SUPPLYING PROCESSES AND COST ANALYSIS: CASE UNITEC GmbH
THE SUPPLY INTEGRATED IN THE PURCHASES: CASE UNITEC
THE VIRTUAL WAREHOUSE OF UNITEC UNITEC: APPLICATION TO A SANITARY DISTRICT
PROCUREMENT OUTSOURCING BY THE EXAMPLE OF UNITEC GERMANY GMBH
SYSTEMS OF SUPPORT TO THE DECISIONS AND THE ECONOMIC DEVELOPMENT FOR THE INDUSTRIAL DISTRICTS: VIRTUAL WAREHOUSE UNITEC
ICT AND OCCUPATION (REAL OR VIRTUAL): CASE UNITEC
INTERNET-BASED SOLUTIONS FOR THE SCM: CASE UNITEC
INTERNET APPLICATIONS TO THE FUNCTION SUPPLYINGS: FROM THE SCM TO THE E-PROCUREMENT: CASE UNITEC
EVOLUTION OF THE RELATIONSHIPS BUSINESS TO BUSINESS BETWEEN SMALL AND AVERAGES ENTERPRISES
OUTSOURCING OF SUPPLYINGS AND INTEGRATION OF THE PURCHASES, THE UNITEC CASE
THE MANAGEMENT OF THE INTERNATIONAL CUSTOMERS: THE CASE UNITEC-D GMBH
NEW APPROACHES TO THE MANAGEMENT OF THE SUPPLIES: THE UNITEC CASE
ANALYSIS AND DEVELOPMENT ARE BASED CONFIGURATION OF A SOFTWARE COMPUTER FAMILY AS LINUX LIVECD IN THE CONTEXT DIGITAL VIDEO OF THE PROJECT